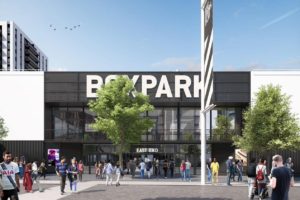 Boxpark is a food and retail park made out of refitted shipping containers.
The first Boxpark was launched in Shoreditch in 2011. Due to its success, another was built in Croydon next to East Croydon station in 2016.
The good news is that there's one coming to the best leisure and shopping neighbourhood in NW London, Wembley Park.
It'll be the biggest Boxpark yet and opens on 8th December. There's a great variety of food outlets including Ugly Dumpling, The Athenian, Drums & Flats, Cut + Grind, Shake Shack, Wingstop, Poptata, Smoky Boys, Mitsuryu, Kabab, Zia Lucia, Spice Shack and Nanny Bills.
GialloGrana catches the eye with its cheesy tagline: Fresh Italian brand with pasta you can't walk pasta.
If you're lucky enough to be staying with London Exec in a Wemley Park apartment, Boxpark is just a 3 minute walk.
London Exec Apartments has a range of 1, 2 and 3 bed apartments in Wembley Park.